Welcome to the Lumibao Lab!
@ Texas A&M University in Corpus Christi
We study plants and microbes, either individually as an organism or the eco-evolutionary dynamics of their interactions in response to changes in their environment and the functional outcomes of these interactions to ecosystems. Our research spans a wide array of scales – from centuries to annual temporal scales, local to global spatial scales – and across different ecosystems – more recently, the coastal ecosystems. We use – omics approach and combine field, common garden and lab experiments.
TAMUCC has been the home of the Lumibao Lab since 2021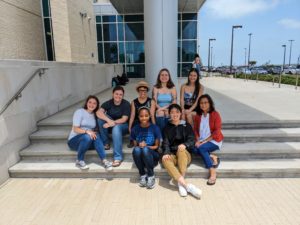 ca Spring 2023 Front row: (L-R) Mikaelia, Yue, Dr. Lumibao
Back: (L-R) Grace, Georgia, Alex, Bre C, Bree G
Graduate students: If interested, send via email your 1) brief cover letter stating your general research interest , 2) CV to Dr. Candice Lumibao (candice[dot]lumibao[at]tamucc[dot]edu).

Undergraduate students: we are always looking for motivated and hard-working students to engage in our research in the lab and in the field. If interested contact Dr. Candice Lumibao.