May 2023
Grace Rush, Honors student, graduated today! Congratulations, Grace!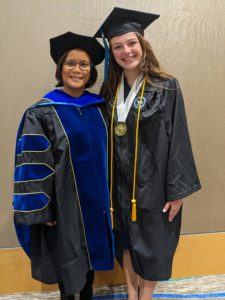 April 2023
Grace Rush presented her Honors project of excellence at the TAMU-CC Symposium for Student Innovation, Research, and Creative Activities last April 2023!
Dr. Candice Lumibao was awarded the AAUW Research Publication Grant in Science, Engineering and Mathematics. She will be assessing the decoupling in taxonomic diversity and microbial functions following exposure to environmental contaminants beginning June 2023.